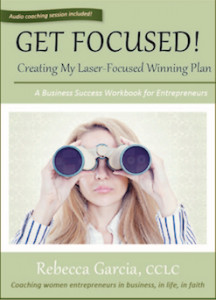 GET FOCUSED!  Creating My Laser-Focused Winning Plan
A Business Success Workbook for Entrepreneurs
This value-packed workbook and accompanying audio recorded coaching sessions were created and designed to help entrepreneurs get laser-focused, creating vision, set goals, taking action and overcome the common obstacles that can often hinder growth.
Rebecca coaches you step by step through the vision and planning process laid out in this workbook to "Create a Laser-Focused Winning Plan" that will dramatically improve your focus and direction as well as increase your income.
Benefits of the processes in this workbook include:
-Create clarity for your overall big-picture vision
-Break down the vision into smaller, achievable steps
-Write out short and long-term S.M.A.R.T. goals
-Project, calculate and earn your "Ideal Income"
-Design a balanced, guilt-free "Ideal Week Schedule"
-Event & product launch strategies
-Set up Annual, quarterly, monthly and weekly action plans
-Overcome the Obstacles  and claim your success!
Filled with exercises and worksheets to help guide you through the planning process and set up an action plan to ensure your success. Online access to all of the templates used in the workbook is also made available for you to use over and over again annually.
This workbook and coaching series gives you all the essential tools you need to GET LASER-FOCUSED, to equip you to build a firm foundation on which to grow a thriving successful business and live a fulfilled, guild-free balanced life!
$39 eBook, Includes:
Audio Recorded Coaching Sessions

Access to all templates

Some of the worksheets and templates included are:
Goal Planning Worksheets with action planning steps to ensure success
Event and Product Planning Worksheets to help you plan a successful event or product launch
Financial Goals Worksheet
Income Projections Worksheet
Monthly Goal & Action Planning Checklists
Ideal Week Scheduling Template and Instructions
This Business Success Workbook is based on the core strategies and systems that Rebecca Garcia's Coaching clients have received and implemented that have generated extraordinary success in their businesses and lives.
Get your copy today to get started now using the self-paced audio coaching sessions and exercises in the workbook and gain greater clarity on how you can run your business more successfully and with greater focus!
Gain instant access by purchasing the eBook to use to track your progress throughout the year.
What some of her clients are saying:
"Rebecca helped me establish goals and set priorities.  She helped me find clarity and steered me in the right direction. I created an "Ideal Week" schedule to better manage my time.  I was also able to envision what my "ideal life" would look like and to prioritize which goals needed to be accomplished first to obtain the "ideal life" I had envisioned."   ~Shannon Harbert
"Rebecca's coaching has been invaluable to me. I desperately needed a coach to guide me in balancing all areas of my life; not just the business side. Rebecca has shared life-changing insights and productivity tools with me that have propelled my business and personal life to a place that I only imagined in the past."  ~Stephanie Nivinskus, Impressions Marketing Studio
"Rebecca is a master of self-discovery, unlocking ideas and purpose. She is sincere in her belief of each person's purpose and works diligently to move you from the ordinary to the extraordinary! Thank you Rebecca!"  ~Kim Vinyard, Floraliscious
About Rebecca: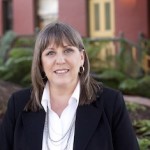 Rebecca Garcia is a Business Coach & Consultant, Certified Christian Life Coach and Speaker.  She is also Co-Founder & Co-Director of New Day Women's Center, a nonprofit organization offering a variety of services to women and their families. 
Rebecca has a passion for helping women entrepreneurs to become successful in business, in life and in faith. With over 25 years of corporate experience along with running several successful businesses of her own, she has designed strategies and systems that help entrepreneurs achieve more than they dreamed capable of. Rebecca shows entrepreneurs how to take their vision for their life, business and ministry from a dream to reality.  She inspires and champions women to look beyond their self-imposed limitations and be all they have been designed to be. Her desire is to help women create a more balanced and guilt-free life, to see the big picture vision and live life to its fullest.